In our Betfair review, you will learn more about the worlds leading Betting exchange platform, the available betting options, how to register an account, how to make deposits, etc.
Betfair Exchange – The worlds largest betting exchange
Betfair Exchange is a betting platform where individuals can place bets against each other, rather than against a traditional bookmaker. It allows users to offer and accept odds on a wide range of sports and events, and offers a marketplace where prices can fluctuate based on the supply and demand of bets being placed. This creates a competitive environment where users can potentially secure better odds than they would through a traditional bookmaker. You can read more about betting exchanges in general here.
History of Betfair Exchange
Betfair Exchange was founded in 2000 by Andrew Black and Edward Wray. The company was created with the goal of offering a different type of betting experience to traditional bookmakers. Rather than bettors betting against a bookmaker, Betfair Exchange allows users to bet against each other, creating a dynamic market.
The platform quickly gained popularity, especially in the UK and Ireland, where it became one of the largest online betting exchanges. In 2016, Betfair merged with Paddy Power to form Paddy Power Betfair, one of the largest online betting and gaming companies in the world.
By being the first major betting exchange, Betfair has gained a significant advantage over the other exchanges as volume attracts other volume. The available liquidity is the most important factor when selecting a betting exchange.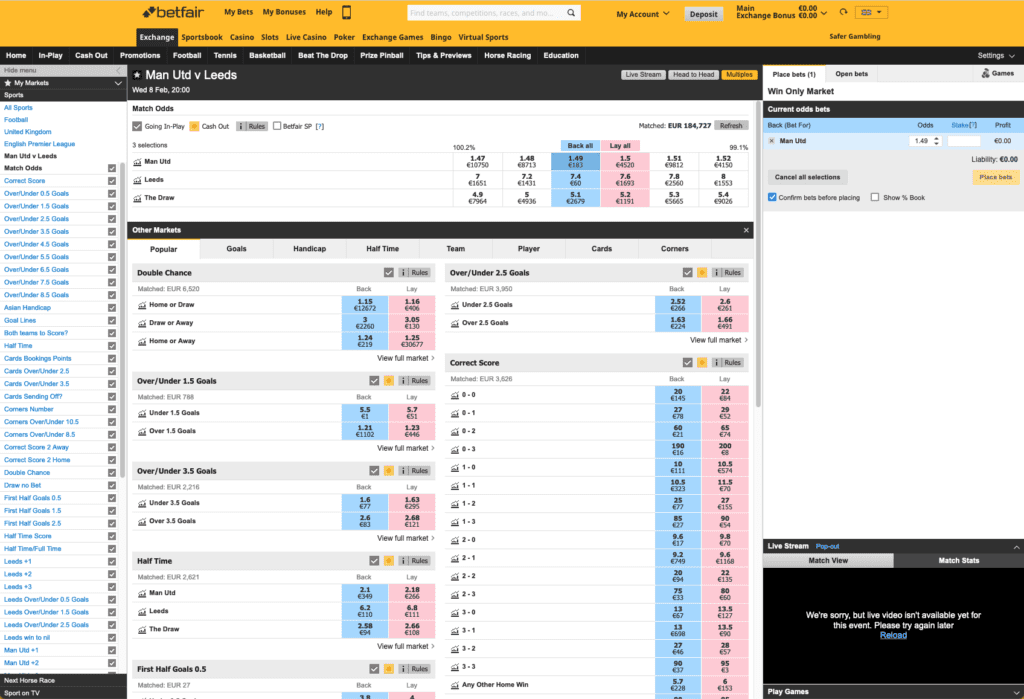 Live betting at Betfair
Symmetrical odds change in placement period. When you place a live bet there is a delay of approximately 5 seconds from placing the bet til your order gets filled. This is done to prevent courtsiding and make it possible for clients to bet without being present physically at the event or having a low latency live feed. This means that during the placement period odds may change. Betting at an exchange like Betfair, this change is symmetrical: you will get better odds on your bet if it moves in your favor during the placement delay. You will generally not get odds improvement when betting with a regular sportsbook. Your order will either get filled at the price you asked for, or not filled at all.
Less risk of market suspension. Betfair, having the deepest order books and best liquidity, will generally have a correct price all the time, even for live events. As Betfair earns their income on commission, not trading profits, they will strive to keep the market open as much as possible. A sportsbook on the other hand earns their income based on what odds is offered. This leads many sportsbooks to suspend their odds many times during a game to protect against losses. This can be a frustrating experience for the bettor.
Betfair Exchange as a tool for Surebetting and Matched Betting in 2023
With Betfair's excellent liquidity, and frequently updated prices the site is very good for placing offsetting bets when finding attractive opportunities for Surebetting and Matched Betting with sportsbooks.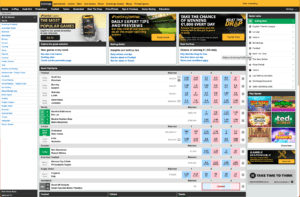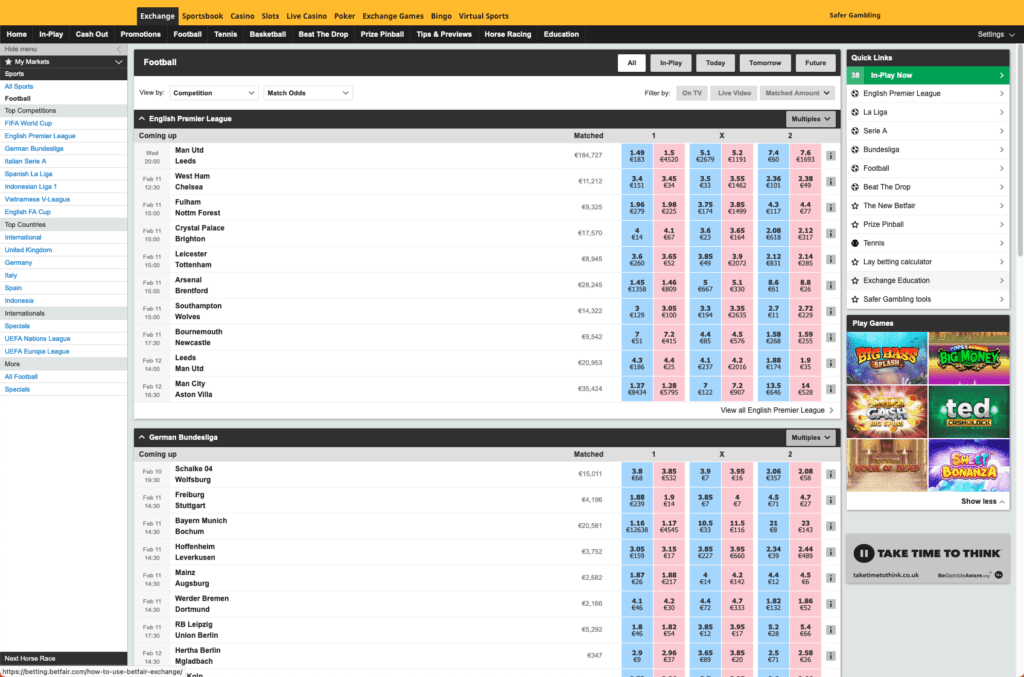 Surebetting with Betfair Exchange
Surebetting is a method of taking advantage of differences in odds between different betting markets to make a guaranteed profit, regardless of the outcome of an event.
Here is how you can do surebetting using Betfair Exchange:
Find a sporting event with different odds in different markets.
Place a bet on all possible outcomes with different bookmakers to cover all possibilities.
Use the Betfair Exchange to place a lay bet against the outcome you just backed, ensuring a profit no matter what happens.
Repeat the process for multiple events to maximize your profits.
Note: It's important to keep in mind that bookmakers may limit or close the accounts of users who engage in surebetting, and the odds on the Betfair Exchange can change quickly, so it's important to act quickly and accurately.
Matched Betting with Betfair Exchange
Matched betting is a betting technique that allows you to take advantage of bookmaker promotions and offers to make a guaranteed profit.
Here's how you can do matched betting using Betfair Exchange:
Find a bookmaker offer: Look for bookmakers that offer free bets, bonuses, or promotions.
Calculate your bets: Use a matched betting calculator to determine how much you need to bet on each outcome to ensure a profit, regardless of the result.
Place your bets: Place a back bet with the bookmaker and a lay bet on the Betfair Exchange to cover all possible outcomes.
Repeat the process: Look for more offers and repeat the process to maximize your profits.
It's important to keep in mind that matched betting requires careful calculations and a good understanding of odds and betting, as mistakes can lead to losses. Additionally, some bookmakers may limit or close the accounts of users who engage in matched betting, so it's important to monitor your accounts and be aware of any restrictions.
Betfair Exchange vs other betting exchanges
Betfair offers by far the most liquidity of all the betting exchanges. This means that you can find odds on the largest number of events and markets.  The available betting volume will generally be highest, and the spread between the back and lay price will be the smallest. Others may offer lower commissions, but often that will not be enough to compensate for the lesser price you achieve.
What Betfair Exchange does not offer
Betfair is the preferred betting exchange at the moment. But liquidity at all betting exchanges is very much focused on either live events, or events taking place in the next few days. Liquidity is gradually increasing as the event comes closer, so if you want to bet on events long before they take place you need to look at a sportsbook. The same is true for odds on less popular leagues, as the available liquidity will not be good, even at the worlds leading betting exchange. It is true that Betfair also offers a sportsbook, but the sportsbook is unfortunately not good compared to the best alternatives, and also limits winning players.
A good way of handling this issue is to use our preferred site, BFB247. This site offers all you get on Betfair, as it is a Betfair White Label. In addition you get access to the worlds leading bookmaker, Pinnacle in the same suite.