In our BFB247 review, you will discover more about our exclusive Orbit Exchange 2.5% VIP Commission, the available betting options, how to register an account, how to make deposits, etc.
BFB247 – All-in-one betting platform
BFB247 is a premier online sports and gaming platform that provides customers with a wide selection of high-quality betting services. It provides a broad range of sporting pleasures on a single, user-friendly platform. On BFB247, you may find the most aggressive odds and highest limits for countless sporting events, with a specialization in cricket and football. This sports betting exchange is powered by Betfair, the largest sports betting exchange in the world.
With BFB247, users can access and place bets on both Pinnacle and Orbit Exchange. It also has dedicated Cricketbook that provides users access to more cricket-oriented markets and a dedicated Footballbook aimed at football-oriented customers. BFB247 is a must-have for sure bettors, matched bettors and value bettors.
All bettors are welcome to all parts of the bfb247 offering. They do not restrict even the sharpest bettors. This makes BFB247 the recommended betting platform for surebettors and matched bettors as well as professional sports bettors.
Orbit Exchange
The cornerstone of the BFB247 solution is the betting exchange. It is the best version of Orbit Exchange, which is a Betfair white label. BFB247 users can use Orbit by clicking on the "Exchange" button on top of the website. Please read our in depth review of Orbit Exchange by BFB247. Also see our review of Betfair.
Orbit covers a wide range of sports and a lot of betting markets. The Lay or Back function is a feature that is essential, especially for matched betting and surebetting. The lay is used to wager against any team, whereas the back is used to wager in favor of the team. Orbit offers European odds format, and also permits bettors to trade in-play matches.
Using Orbit Exchange through bfb247 gives you the same world class liquidity that Betfair Exchange offers.
Especially for surebettors, matched bettor and arbitrage bettors, the exchange will be the most interesting part of the BFB247 offering. But read on, as the other products also add great value!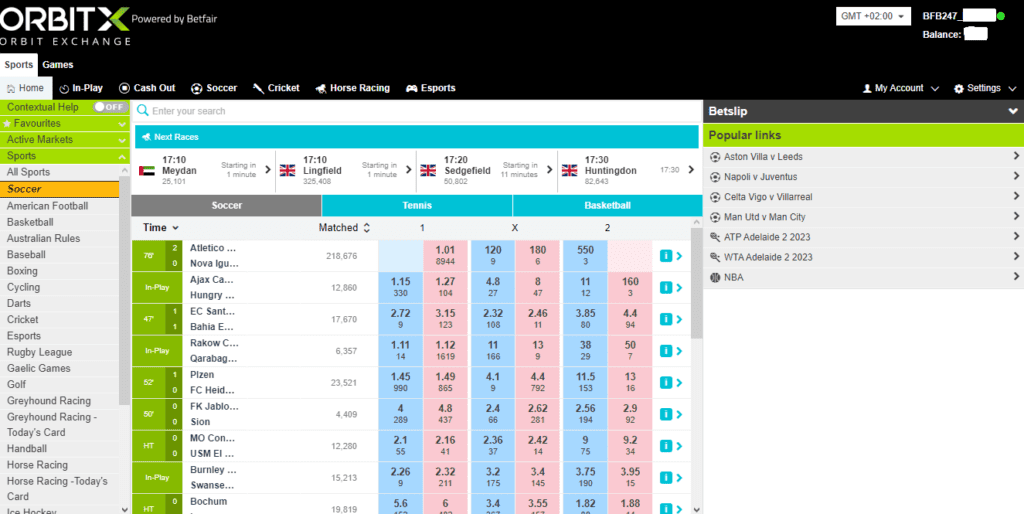 Pinnacle Sportsbook
BFB247 has a sportsbook powered by Pinnacle. Pinnacle is widely considered to be one of the "sharpest" sportsbook out there. They offer great odds and high betting limits. When it came to offering odds on esports, it was one of the earliest and most certainly the biggest bookies. The highest betting limits in the entire world can be found there. On major games like the World Cup and European Cup, millions of dollars in wagers are accepted.
The Pinnacle Sportsbook interface is simple to use and intuitive. There are three different views of the website—Asian, European, and Classic—and it is accessible in 12 different languages. When betting with Sportsbook and Footballbook, you bet using the same wallet. So no need to move funds back and forth!
Betting with Pinnacle through bfb247 you get access to the same high betting limits that Pinnacle offer at their own web site. This is a major major advantage compared to betting at Pinnacle through other betting brokers, where limits are typically only half that amount.
For surebettors and matched bettors having access to Pinnacle is important. As their lines generally move first when something happens, you can often create a surebet by betting on Pinnacle and taking the opposite bet with another sportsbook that has not yet changed the odds. And they welcome all players, including arbitrageurs.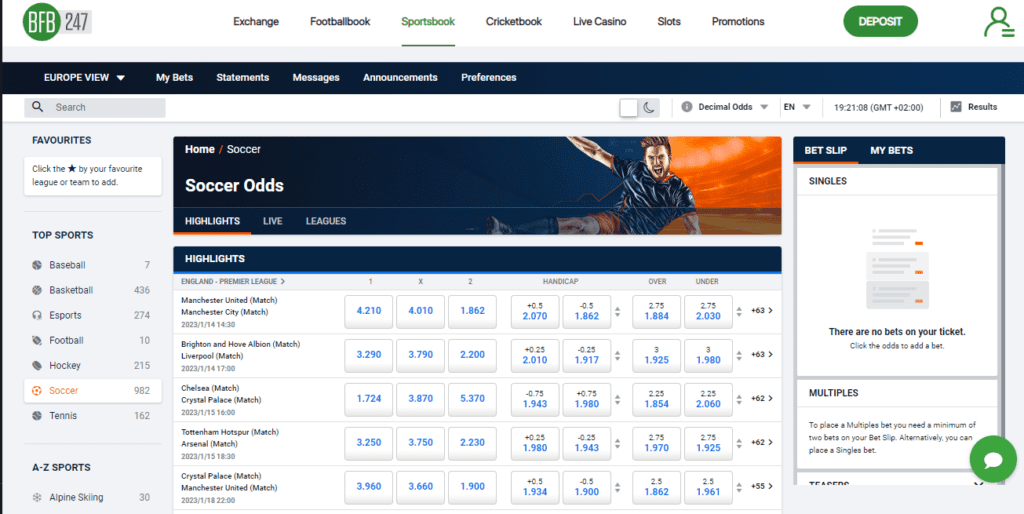 Footballbook
BFB247 has a dedicated Footballbook where users can find a huge number of football leagues from all over the world. Bettors can find the in-play bets on the front page of the website and also check the scheduled matches. There is also an option to watch live matches on the right side of the website. This Footballbook is powered by Easybet, which also offers liquidity to ISN. The types of betting options available in the Footballbook are win/lose, half-time win, asian handicap betting and many more. Footballbook also includes live TV stream in high quality of several football matches every day.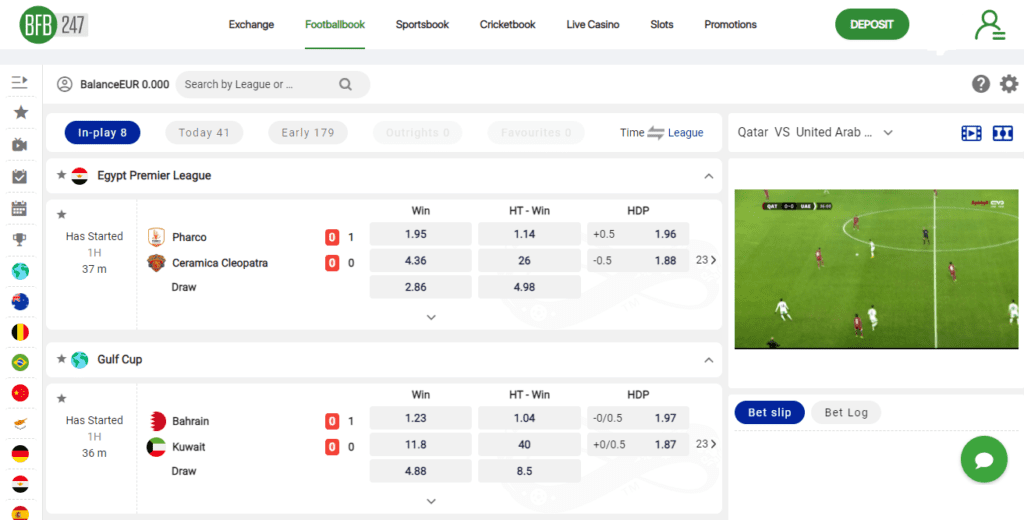 Cricketbook
BFB247's dedicated Cricketbook features hundreds of cricket bets on live matches going on all over the world. It includes both international and national league matches as well as E-cricket, virtual cricket, etc. Both fixed and back-and-lay betting options are available in BFB247. Users can bet on the match winner odds, fall of wicket, over-specific runs, batsman runs, innings fours/sixes, and player-specific odds. Similar to the Footballbook, a live telecast of some cricket match is available at the top right corner of the website.
Cricketbook offers the best odds and highest liquidity on virtually every cricket match all around the world.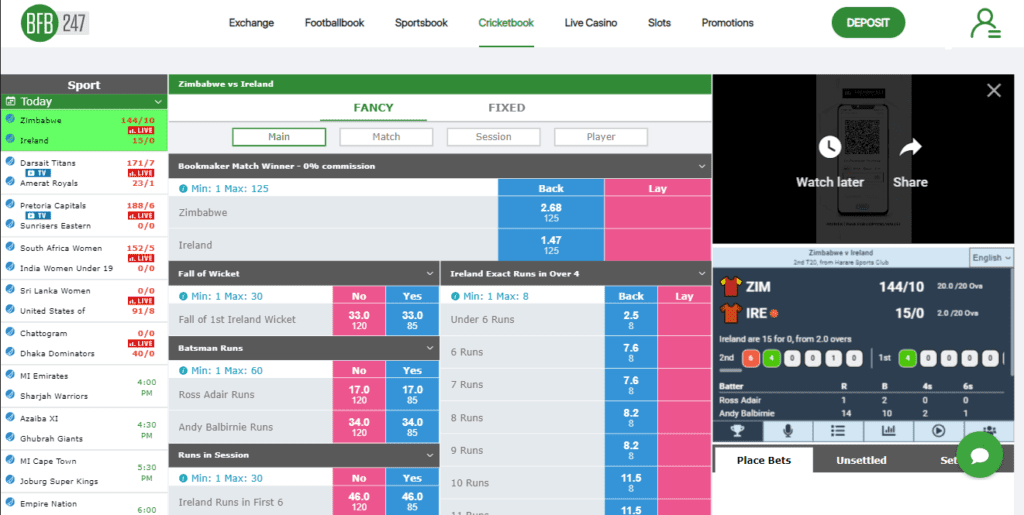 Live Casino and Slots
BFB247's live casino and slots sections offer a heap of casino games and slot games for betting. The most famous casino games available are roulette, blackjack, andar-bahar, dream catcher, mega ball, auto roulette, super sic-bo, football studio, lightning dice, monopoly crazy time, and many more. Slots include the Great Speech, the Super Road Machine, the Civilization of Bull, the Sushi Saga, the Vault Blast, the Book of Antigue, etc.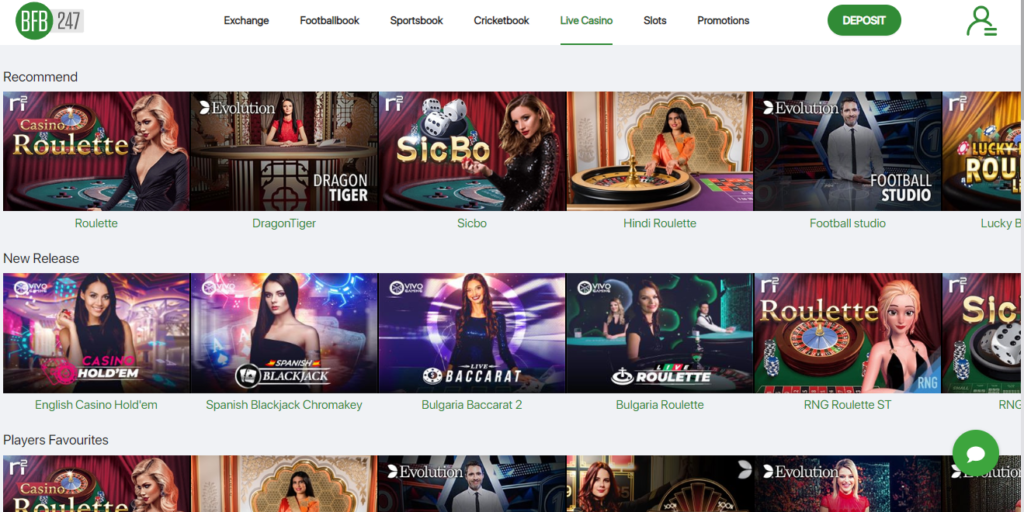 Registration and Verification
Registering a BFB247 account is pretty straightforward, similar to completing a Google form. Let's check the guidelines to open an account quickly.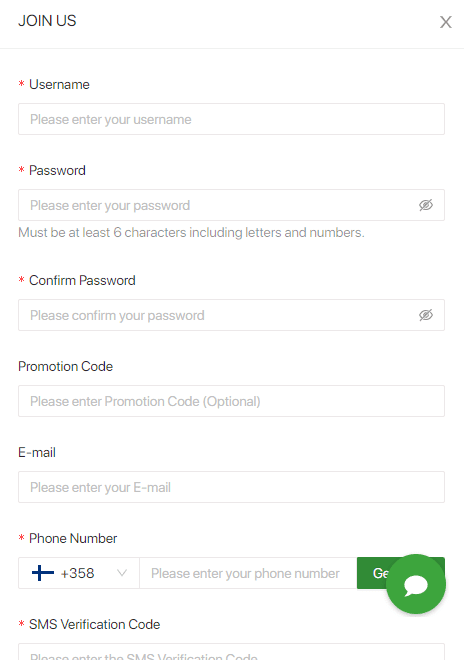 Make sure you use the correct link (if you want the Exclusive 2.5% VIP Commission on Orbit Exchange!)
First, enter your preferred username and password you want to use when logging in to this website.
You can enter your email address, which is not mandatory. The most important thing you need to create an account is a valid phone number. BFB247 will send you a verification code to the number you will enter. After entering the code and selecting your currency, you can click on the "Sign Up" button to complete the sign-up process.
After successfully signing up, you need to verify your identity before you can start withdrawing money from your wallet. You need to verify your identification with a photo ID such as a passport, national identity card, or driving license, and your proof of address with a utility bill, credit card bill, or bank statement. Send your documents to [email protected], and they will verify your information.
Betting Rules
BFB247 has elaborate and explicitly explained betting rules for football, cricket, other sports, horse racing, etc. Users can refer to the BFB247 Betting Rules section to get acknowledgement of the betting rules.
Promotions
BFB247 has great odds and low commission as a priority over bonuses. The low 2.5% commission on Orbit Exchange is very important for long term profitability. For active players with high turnover commission down to 2% is possible through Surebets.bet. Please contact us at [email protected] for more information.
They do offer a welcome bonus to all new members with a 100% first deposit bonus up to 100 EUR.
There is a casino cashback offer for players betting on Fridays. On Fridays, bettors betting at least 50 EUR will get a 20% refund in case they lose the bets. Another offer for new users is that if they lose their first bet equivalent to 10 EUR with BFB247, they will be refunded the same amount.
Customer Support
BFB247 has active customer support to reach you at any time you need it. Several options are available for users to contact the support team. Users can utilize the live chat option available on the website to chat with a customer representative. Moreover, it is possible to contact the support team via email by sending an email to [email protected].
Curaçao license: 8048/JAZ. BFB247 must keep enough money on hand to honor all deposits and winnings from customers, as required by law. Users can enjoy high liquidity while betting on thousands of sports markets on the sports betting exchange BFB247.