Our BetWasp review here explains everything you need to know about this service.
Sports betting is not always easy, and this is arguably what makes it entertaining. Sometimes you'll lose, while other times you'll win. However, there is a way to guarantee profits on both your lucky and unlucky days. With surebetting software like BetWasp you can watch your bankroll grow rapidly. Besides, the whole betting process is simplified.
What is BetWasp?
BetWasp is a new surebets service owned and managed by Aspira Global Limited. It is basically a logical follow-up of BetBurger – an arbitrage software too. Notably, their main goal is to simplify the whole betting process by making surebets and valuebets faster. If you know nothing about these things, don't worry. We have a lot of resources to help you. Sure bets and Value bets are the most profitable ways to make money through sports betting. When you understand how each works, betting will not only be a fun activity, but also an investment opportunity.
Interestingly, it has tools for both surebets and valuebets. Besides, it offers both Live and Prematch arbitrage services. The best part is there are no limits or delays. You can seize all surebet opportunities without profit caps. For this reason, the software qualifies for 4-star rating from us. And by the way, not many rising stars get such a rating.
How BetWasp Works?
As a premier arbing software, BetWasp scans over 30 bookies, 40+ sports, and 200+ sports markets. By so doing, it can identify the best odds for each market, which in turn helps in identifying arbitrage opportunities. The search is deep, so you can expect thousands of arbitrage bets. Besides, you can choose between Live bets and Prematch, each with plenty of arbs.
Excitingly, you don't have to visit a bookie's website. You can place all your bets automatically in a single click. It's simple. Just log into your account and top up. After that, select your preferred valuebets or surebets, then press a button. The software bets for you in the background. Best of all, it is crazy quick, identifying real-time odds with no delays. Even so, you are still in control of your betting choices. This surebet software just automates the betting.
Layout and User Experience
The BetWasp website is neatly designed, with a great information architecture. The designers have placed everything right where it needs to be. If you a new to the site, you can scroll down, while going through everything they have to offer. At the top, you'll find a navigation bar with quick links to important pages. Moreover, the sign-up and sign-in buttons are at the top as well.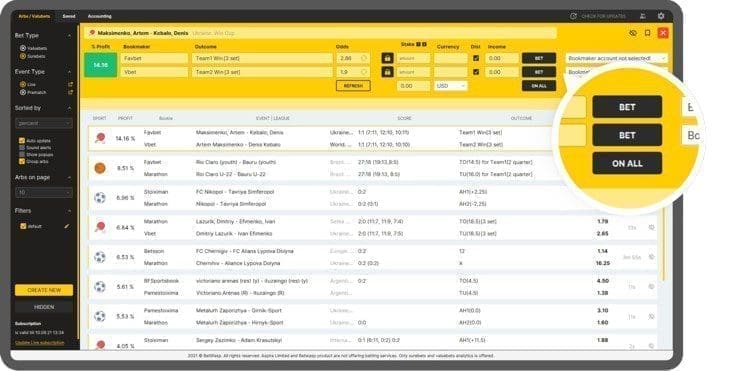 If you have an account, enter your login credentials and sign in. If not, hit the sign-up button and open one. Notably, the registration process is quick and simple, so you can get started in seconds. Once you're in, you can view your subscription plans on the dashboard. On the left side, there is a "Payments" section where you view all the payments made to the company, including the date and services paid for. Also, there is a "Settings" option through which you can change various things like your name, email address, and password. Furthermore, there is an option to delete your account.
Overall, this is just an overview of how the user interface looks like. There are more options, most of which become available once you've paid your subscription fee. But in terms of user experience, there is nothing to fault.
Mobile Compatibility
While BetWasp has a downloadable application, it's only available for desktop/PC users. There is no application for mobile devices like Android and iOS. However, this doesn't mean you can't use the software on a handheld gadget. In fact, you can get started on your smartphone. All you need is a strong internet connection and a mobile device of course. With these, load the website, create an account if you don't have one, and choose a subscription place. After that, pay, then select any of the available surebets or valuebets, depending on what you paid for. There are no limitations whatsoever.
Subscription Plans
BetWasp's pricing is fairly expensive, as you'll see in this BetWasp review. However, as a professional arbitrage bettor, you can recover the amount in 4 to 5 days. But this may depend on your betting choices. Currently, its subscription plans are categorized into two.
For surebets, the tariffs are as follows:
Live: €289.99
Prematch: €169.99
Live & Prematch: €374.99
Valuebets are priced as follows:
Live: €189.99
Prematch: €99.99
Live & Prematch: €239.99
All the bills are paid monthly, but if you pay annually, you'll get 2 months free. Also, the plans include unlimited surebets or valuebets.
Payment Methods
Paying for BetWasp's services is simple. You even have several ways to do that, since the company accepts payments via multiple financial institutions. Once you pick an affordable tariff plan, click on the "Order Now". You'll be redirected to the banking page. Pick your preferred option among:
Visa
Mastercard
Bitpay
Skrill
Rapid Transfer
Once you check out, it may take a few minutes to verify the transaction and unlock the services.
Customer Service
The company behind the software provides full arbing support to all their customers. But with the software's efficiency, we highly doubt that you'll need any support. Everything is straightforward. Where things get a little complicated, you can head over to the help center. Here, you'll find answers to some common queries. If you still need to talk to the support team, their email address is [email protected]. Their help is reliable and timely, so replies don't take long.
Final Thoughts
As evidenced in this BetWasp review, you can tell that the software is awesome. As a new service, the company has gone all out to offer incredible functions. The bookie coverage is commendable, but the automated betting option makes the software unmatched. The only major downside is the lack of daily or weekly subscription plans. All in all, most of its features are up to the mark.