RebelBetting is one of the best Pre-match sure bets services. Arguably, it's sometimes difficult to solve too many problems with just a few resources. The thing is, time is always there, and so does energy. For this reason, it's wise to just focus on one area and become unmatched at it. That's exactly what it does.
They focus on pre-match betting, and evidently, they are the best at it. If you've tried live betting and it didn't work out for you, you ought to try pre-match options. And if you choose RebelBetting, you won't regret it. We've tested it ourselves, and the services were just incredible. Its speed and ease of use are the most unique selling points of the software.
What is RebelBetting?
RebelBetting is a professional arbitrage betting software that focuses on pre-match bets. It has been reviewed as the world's most popular sports arbitrage service, and their happy customers agree with the statement. The surebet software was launched in 2008, having been built by Clarobet AB. The latter is a group of sports betting enthusiasts and software developers.
Since its inception, it has secured a large customer base in all continents. Their main focus was on sure betting, but they expanded a little bit. Now, they offer value betting as an addition.
How does RebelBetting work?
RebelBetting works like any other arbitrage betting software, only that their services are quite improved. It scans all odds offered in its supported bookies. By so doing, it identifies all arbitrage opportunities and highlights them for you. You can therefore compare the arbs and pick one that seems more profitable. They are all profitable, by the way.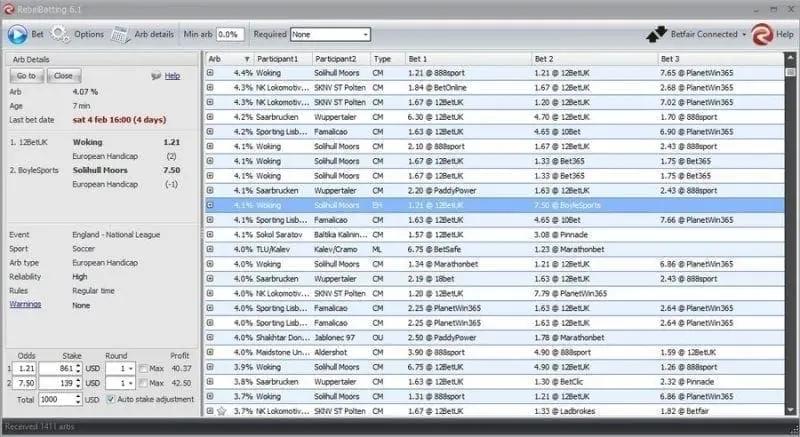 Once you choose an arb, the surebets software will automatically begin calculating some other variables. On the same interface, there is a field where you can adjust your stake. Whenever you put your bet amount, this software will compute possible profits from the arbitrage situation. Interestingly, you also have an option to round your bets so that bookies won't notice your arbitration activities.
Layout and user experience
Is it easy to use? Absolutely! From its working, you can see that it's user-friendly software. You can easily customize it to your preference. Besides, there are various features to help you identify the best arbs and place bets efficiently. And the arbitrage bets are organized and presented in a well-thought-out manner.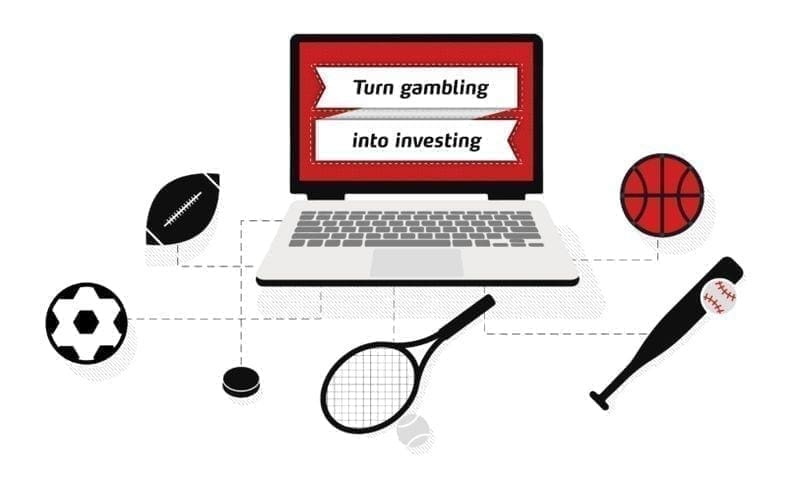 It all starts with choosing the bookmakers where you want the software to highlight arbitrage opportunities. After that, you'll need to define the range of arb percentage that you're looking for, the sports you want, and the length of time before the game starts. In addition, there is an "Alerts" option. This cool feature allows you to set specific alert sounds for arbitrage opportunities.
Is RebelBetting legit and reliable?
RebelBetting is a real and legit arbitrage betting service. At least that's what their happy customers say. Currently, the software has over 125,000 customers by approximation. They could be more. From our experience, we can confirm that whatever the software promises, it delivers. And the results are accurate and dependable.
The service supports assumptions, calculations and possibilities associated with any selected bet. By so doing, it computes the chances of making a profit. The best part is that it supports a good number of bookmakers. The number of sports scanned daily is considerably high as well. Therefore, you can expect the most profitable arbitrage opportunities.
Do sure bets work?
Sure betting covers all outcomes in a match and earns you profit regardless of the winner. So yes, surebets works. And with sure bets finder, you'll be in for steady profits without much risk. However, this software is not for every bettor. You need full dedication and focus to win. With these, even a beginner can make a 10 – 20% profit every month. And how does RebelBetting do this? Well, the idea is simple.
Every minute, different bookies update hundreds of odds. This software scans, compares and analyzes the odds to find those that are profitable. For a sure bet to occur, two or more bookies must have high odds on different teams of the match. Interestingly, this happens more than a thousand times in a day. Therefore, you'll have plenty of sure bets opportunities.
What are value bets?
A value bet is a stake you make by taking advantage of the overpriced odds. This gives you an edge over the bookie. An easy way to understand value betting is to think of it as a tipster service. But it isn't that simple though. Value bets are different from surebets in that you are not covering all outcomes. Rather, you are swinging probabilities to favour you.
Bookmakers will always set odds to favour them. That's how they make profits. But with value betting software like RebelBetting, you can arrange the odds in your favour. By so doing, you'll be betting on high-value odds and win more than you lose.
Accessibility and Mobile compatibility
RebelBetting is a responsive software. You can access it on any device, be it a desktop computer or mobile phone. On desktop, you can download and install the software, or access it via a browser. But on mobile, only a browser is viable. Therefore, it is compatible with all devices.
The working space may be quite limited on mobile. But since you are free to customize it, you can set it to be more friendly. Notably, value betting is more effective than sure betting, when done via a handset. The former requires just a single bet to be executed at a go, but the latter involves a series of bets. So, if odds change unexpectedly in a value bet, you can pursue another one without any loss.
Subscription plans
As a professional sure bets technology, RebelBetting doesn't come cheap. There is a free trial period, but it won't last for long. In fact, you'll only have 14 days to use the software for free. Therefore, you'll need to pay a subscription fee to extend the service period. Luckily, the amount is quite affordable. Besides, you can choose between weekly, monthly and quarterly plans. Here's a summary of the current pricing for each of the packages:
Weekly: €39
Monthly: €129
Quarterly (6 Months): €581, €97 per month
Payment methods
You can use various methods to make payments at RebelBetting. The service supports various financial institutions, including credit/debit cards and digital wallets. However, these options are country-specific. But the operator aims to avail localized banking options in individual countries. Some of the payment options available are:
Visa
Mastercard
Skrill
Neteller
Customer service
Often, you may get stuck on something when using an arbitrage betting strategy. However, you shouldn't stay stranded for long. Not with the friendly support agents at the help desk. Whenever you have a query or concern, contact the support team for help. To do so, drop them a mail at [email protected].
Alternatively, you can look for an answer on the support. And if you don't mind interacting with the community, click on the social media links at the bottom of the website. Here, you can get in touch with other users on Facebook, Instagram, Twitter or YouTube.
Final thoughts
Evidently, RebelBetting's positives outweigh the negatives. The team behind its operations has done a commendable job in developing such a polished sure bets software. Besides, its efficiency and reliability go hand in hand with the price. We would certainly recommend it to any arbitrage bettor.
Frequently asked questions
Is it easy to use?
Yes, the interface is user-friendly, with everything clearly displayed on the landing page. To see if it works for you, take advantage of the 14-day free trial period.
Will bookies notice that I'm using surebet software?
No, they won't. The software allows you to round your bet sizes which makes your betting behaviour as normal as possible.
Does it offer any discounts?
Follow our forums for up-to-date information on promotions.
How long is the free trial period?
14 days, after which you need to choose your plan and pay for it.