Discover the power of ProfitDuel, a matched betting assistant tailored for the US market. ProfitDuel offers innovative features, including the Dutch Matcher and Profit Tracker, designed to help you maximize your profits. With comprehensive training resources, a supportive community, and affordable pricing, ProfitDuel is the ultimate tool for both beginners and experienced bettors looking to optimize their matched betting experience in the US market.
Matched betting has gained significant traction in recent years. This has led to the creation of various platforms designed to assist bettors in maximizing their profits. ProfitDuel, a matched betting assistant tailored for the US market, is one such platform. Based on the successful European tool, Oddsmonkey, ProfitDuel is poised to make a significant impact in the industry. In this review, we delve into ProfitDuel's features, usability, pricing, and customer support to help you determine if it's the right fit for your matched betting requirements.
If you are new to matched betting, and would like to learn more about how it differs from surebetting, you can read about that here.
ProfitDuel are live and operational in New Jersey, with New York, Ohio, Pennsylvania and Maryland launching imminently. Further expanding to every legal state withing one year.
Oddsmatcher: The Heart of ProfitDuel
At the core of ProfitDuel lies the innovative Oddsmatcher, a tool designed to scan various bookmakers and betting exchanges to identify the most lucrative matched betting opportunities. With its intuitive interface, the Oddsmatcher allows you to filter results based on sports, market, bookmaker, and odds, making it effortless to find profitable bets.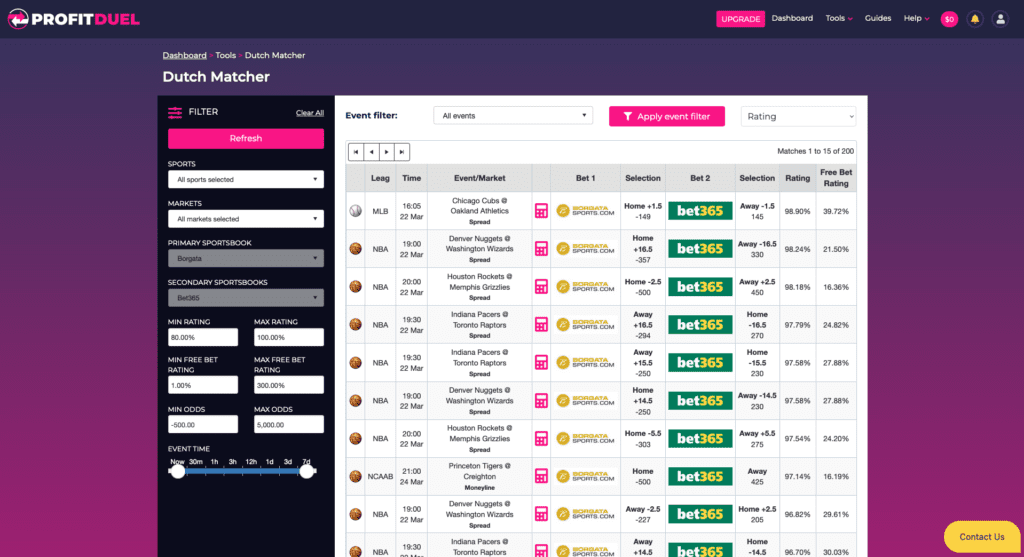 ProfitDuel labels their oddsmatcher "Dutch Matcher", which is is a unique feature that focuses on the matched betting method known as "dutching." By covering all possible outcomes and placing bets with different bookmakers, the Dutch Matcher helps you achieve optimal returns on your bets, including arbitrage opportunities, ensuring maximum profits.
The table above is ranked by "Rating". The rating refers to what return you will make on the bet, with 100% meaning you will get your full stakes back no matter the outcome. If the return is larger than 100% it will be an arbitrage opportunity. This is what surebetting is all about. Matched betting on the other hand focuses more on getting bonuses, while losing as little as possible in the process. Therefore, a rating like 98.9% shown in this example will be good enough. But several 100%+ opportunities will also arise, and happened several times while we were testing the software.
Advanced Bet Calculator and Daily Offer Calendar
Equipped with a sophisticated bet calculator, ProfitDuel assists you in determining the perfect stakes for your bets, minimizing risks. The calculator includes both back bets and lay bets. Furthermore, the platform's daily offer calendar keeps you informed about the latest promotions and free bet offers, specifically curated for the US market. This ensures you're always aware of profitable opportunities and never miss out on a chance to maximize your earnings.
At the time of this review (March 2023) ProfitDuel listed welcome bonuses offering value of more than $4000. And will continue to update the site with reload bonuses.
Comprehensive Training Resources and Supportive Community
ProfitDuel offers an extensive range of tutorials, guides, and video resources, catering to both beginners and experienced bettors. From fundamental matched betting principles to advanced strategies, ProfitDuel provides everything you need to optimize your profits.
Additionally, ProfitDuel's supportive community offers valuable insights, tips, and tricks, fostering a collaborative environment where you can learn and grow as a matched bettor. Many users will not need support, as the step-by-step guides and video tutorials are comprehensive. But if you need any help, ProfitDuel offers a great help if it is ever needed. Furthermore, the community on the site is very helpful to help you get additional information on bonuses. Some bonuses may not be available to all clients, and are therefore not posted in the Daily Offer calendar. The forum is also great for discussing the Matched Betting experience with others, including getting tips and tricks on how to avoid getting your accounts restricted.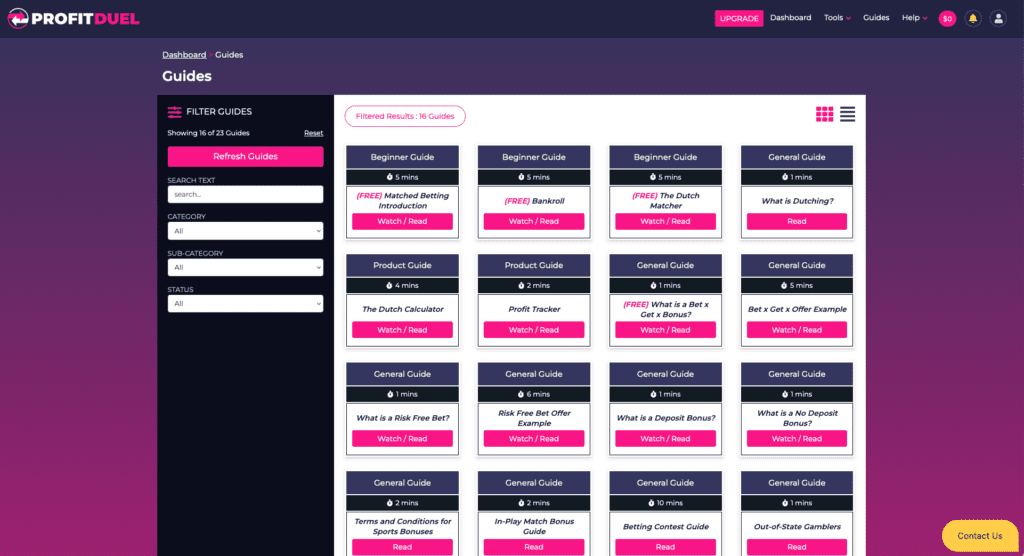 Affordable Pricing and Subscription Plans
With a one-month free trial and reasonably priced subscription plans, ProfitDuel offers unmatched value. The trial version lets you earn up to $125 profit through two welcome offers. To continue using ProfitDuel you need a premium account. The subscription costs of a premium account is $99/month, while the annual plan provides a discounted rate of $41.58/month ($499 billed annually). With a 58% discount, we recommend the annual plan.
Conclusion and Final Verdict
ProfitDuel, though new to the US market, is backed by proven technology and impressive success in Europe. Its competitive pricing, coupled with its comprehensive features and user-friendly interface, makes it our top recommendation for matched betting in the US market. Experience the power of ProfitDuel today and unlock your matched betting potential. The value will be much higher than what you pay, which make ProfitDuel a highly recommended product, and our #1 recommended product for the US.
FAQ: ProfitDuel Matched Betting Assistant
What is ProfitDuel? ProfitDuel is a matched betting assistant platform specifically designed for the US market. It offers various tools and resources to help bettors maximize their profits from matched betting.
How does ProfitDuel's Dutch Matcher work? The Dutch Matcher is a powerful tool that scans multiple bookmakers and betting exchanges to find the best matched betting opportunities. Users can filter results by sport, market, bookmaker, and odds to quickly identify profitable bets.
What is the Dutch Matcher feature? The Dutch Matcher refers to the matched betting method called "dutching," which involves covering all outcomes by placing bets with different bookmakers. This feature helps users maximize their returns on bets and identify arbitrage opportunities.
How does the advanced bet calculator work? ProfitDuel's advanced bet calculator helps users determine the ideal stakes for their bets, making matched betting risk-free. It offers options for back and lay bets, free bet calculations, and an advanced mode for specific scenarios.
What is the daily offer calendar? The daily offer calendar keeps users updated on the latest promotions and free bet offers from various bookmakers, specifically targeting the US market. This ensures users never miss out on a profitable opportunity.
Are there training resources available for beginners? Yes, ProfitDuel offers a wealth of tutorials, guides, and video resources for both beginners and experienced bettors. These resources cover basic matched betting principles and advanced strategies, helping users maximize their profits.
Is there a community or forum for users? ProfitDuel boasts a supportive community and forum where users can discuss their matched betting experiences, share tips and tricks, and seek help with specific issues.
How much does ProfitDuel cost? ProfitDuel offers a one-month free trial. After that, the standard subscription is priced at $99/month. Users can also opt for the annual subscription plan, which offers a discounted monthly rate of $41.58.
Is ProfitDuel suitable for bettors in the US market? Yes, ProfitDuel is specifically designed for the US market, offering targeted features and resources to cater to the unique needs of bettors in the United States.