With just a few dollars, you can ensure that all your bets pay off. Too good to be true? Read our BreakingBet review to the end. Here, we will explain everything about the service, including how it works, its efficiency, and the tariffs involved. Moreover, we will list all the advantages of the software. And since it can't lack one or two drawbacks, we will list them as well.
Interestingly, BreakingBet scans hundreds of betting markets and bookies every day. Also, they scan quite a good number of sports to ensure that you get the best odds on your favorite sports game. By so doing, the software finds arbitrage situations for you.
What is BreakingBet?
BreakingBet is a surebet finder for Live and Prematch sports betting. It scans over 12 sports in real-time to provide thousands of arbs. The best thing is the service is so quick that it takes seconds to complete a search. That's the efficiency we all want. Notably, it was established in 2016 by LLC Polarweb. The latter is the current owner of the technology.
The service has great tools for both sports bettors and analysts. Besides, it has smart resources for both experts and novice arbers. If you are just a beginner in arbitrage betting, don't worry. This is a great tool for you. In fact, their subscription plans are quite friendly to beginners.
The software was initially free, but in June 2018, they started charging a little fee. Yes, it's a little fee. Compared to several other arbitrage software, BreakingBet is more cost-effective. It is available in multiple languages, including English, German, Russian and French. This helps them serve a wider clientele base since language barrier problems are greatly reduced.
Layout and user experience
BreakingBet's user interface is fairly simple. When you load the site, a window will pop up displaying all the current figures. Below the numbers, you will find a "SHOW ME" button. When you click, the surebet software will display all available arbs. Nonetheless, you can't view the outcomes or the attached odds. That's where the subscription fee comes in. Once you pay, everything will be at your disposal. There are other features as well, but you'll need to click on each to see what they do.
On the left side of the interface, you'll find all bookmakers, games' start times and the teams involved. You'll also find the age of all arbitrage bets. Overall, we have nothing to fault about the user experience.
How BreakingBet works?
Most probably, you are familiar with arbitrage betting. That's the reason you are reading this, right? But if you don't have any idea about it, or you want to understand it more, read this article here. Back to BreakingBet's working, the surebets software identifies the best odds in the market by scanning over 70 bookies. Its search is quite extensive as it scans multiple betting markets such as totals, parlays and moneylines. After that, it analyzes the findings to identify all sure bets opportunities.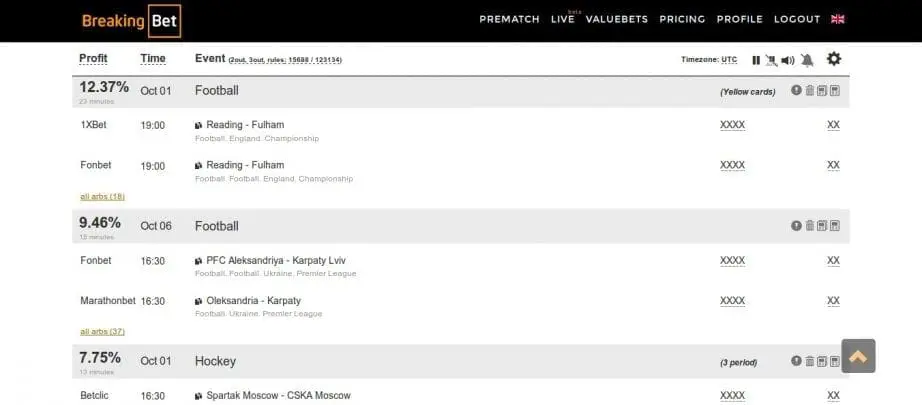 The best part is that the technology covers both Prematch and Live bets. As such, you can pick the best sure bet for the moment. Again, it features a handy surebet calculator. This tool is useful when computing all bet amounts quickly.
How are arbitrage bets calculated?
When making an arbitrage bet, it's fundamental that you understand the math behind it. And since most of us don't like doing the math ourselves, we can use surebets software. These technologies have inbuilt arbitrage bet calculators. At BreakingBet, things aren't that complicated. Here's how to calculate the bets using the calculator:
Open the calculator. You can click on the calculator icon on the control panel, or tap on any arb area that's not affected by the controls.
Set the betting exchanges to use during the calculations.
Set your preferred currency and its exchange rates
Settle lay bets for bet exchanges
With that, the calculator will automatically compute all the necessary odds and the profits for each bet.
Breakingbet only calculates bets placed at two bookies. Sometimes you may get even better results if also checking with an Exchange if you can lay a bet there. BFB247 is a great alternative, offering access to premium surebetting books Pinnacle and ISN in addition to Betfair Exchange.
 Accessibility/mobile compatibility
If you can bet on the go, you obviously want the same privileges in arbitrage betting. If you choose BreakingBet, you have nothing to worry about. LLC Polarweb designed a mobile-friendly software that works well regardless of the screen size. Again, your operating system doesn't matter. With your Android, iOS or Windows device, you can access all its services. But this will only happen if you have paid the subscription fee. The free trial period is available, but for a short time. PC users will also have no problems with the site. Overall, you can use the surebets finder in any environment.
Subscription plans
This is among the cheapest surebet calculators in the market. But considering its great arbs, the price will most likely go higher. When writing this BreakingBet review, the software's monthly tariffs were:
Prematch: 14 USD
Live: 14 USD
Prematch and Live: 21 USD
This is quite pocket-friendly and therefore fit for beginners. If you are an ardent arbitrage bettor, you may want to give it a try.
Payment methods
Payments are also a walk in the park. The provider accepts deposits through several popular banking methods. For your information, these methods are globally accepted. Therefore, you can use them wherever you are. Common credit/debit cards and digital wallets are all available. Besides, they process the payments quickly.
Regarding security, you have peace of mind knowing that your money will always be safe. Besides the money, your personal information will never be at risk. All the available financial institutions use SSL encryption algorithms for your protection. About the charges involved, you may need to consult with individual payment methods. And if there is a currency conversion, be ready to pay an extra fee.
Currently, BreakingBet accepts payments via:
Visa
Mastercard
Maestro
Google Pay
Qiwi
Reliability
While cheap, this finder remains reliable. It scans a good number of bookies, betting markets and sports games. Besides, their sure bets calculator is dependable, thanks to the modern algorithms used. And since it's available on all platforms, BreakingBet is a reliable arbitrage betting software.

And before we forget, you can use it at any time, whether day or night.
Customer service
In any online business, customer service is vital. You'll often get stuck on something, and you need quick intervention. It is here that you discover the importance of the support team. Here, there is a team of support professionals who strive to help whenever need be. But before contacting them, read the FAQs in the help center. You may get an answer to your query on this page. If not, call, text or email the support team. They usually, reply in a few hours.
Final thoughts
In summary, BreakingBet is an ideal sure bets service for all arbitrage bettors. Their services are great and affordable. Besides, the software is easy to use. The number of bookies scanned daily is quite commendable, but they could improve. Overall, it is a good arbitration service.
Frequently asked questions
Is Breaking Bet good?
Yes, it is. The services are great and reliable, and you can use the software wherever you are.
What are the tariffs involved?
It costs 14 USD for Prematch, the same amount for Live and 21 USD for both.
What is freezing?
Freezing allows you to pause any active subscription for a specified period of time. By so doing, you'll avoid wasting your subscription days when you can't use the scanner for a while, when you are on vacation, for example.
How do I contact customer service?
You can use a telephone or drop them a mail at [email protected].