Sports arbitrage has evolved from a small business to a massive money-maker tool. By approximation, it has more than 20% return on investment each month. This has made sports betting an investment. However, you need the right tools, with full functionality, efficiency and reliability. Precisely, this is the perfect definition of this arbitrage betting software. With this scanner, your bets will always be profitable. Want to know more? Read this Arbmate review to the end.
What is Arbmate?
Arbmate is one of the most budget-friendly arbitrage betting software. Running an surebetting software is expensive. You'll need powerful servers, those that can scan and process thousands of odds from hundreds of bookmakers. For this reason, most arbitrage services are costly. However, this arbitrage bet finder is out to change the status quo. Instead of paying hundreds of dollars, you'll just pay tens of them.
The software was launched on July 1st 2018 by Oddstorm ltd. It scans over 60 bookmakers to find the best odds. Betting markets are also plenty, not to mention the sports games covered. If you love betting on football, you are in luck. Arbmate scans the best odds on football matches, and several other games like tennis and basketball. Some of the supported bookmakers include:
Bet365
Bwin
BetAtHome
Betfair Exchange
Betway
Marathonbet
PlanetWin365
Unibet
This software works in two modes – live and prematch. Besides surebets, the scanner works with both ordinary middles and polish middles. For all of them, the scanning quality and speed is quite impressive. Overall, it qualifies for a place next to leading surebet software. Despite their youthful nature, they've managed to outdo several competitors. In fact, it's the only service where you pay for only what you need.
How does Arbmate work?
The core idea is simple. Arbmate aims to support smart bettors by scanning the best odds in the market. By so doing, it establishes all arbitrage situations in the scanned bookies. It also points out the profits you can expect from every single bet you place.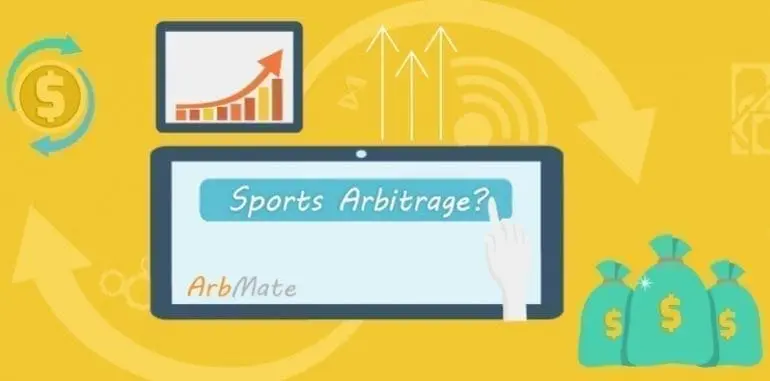 The average profit per month for PreMatch betting is 10% with a bankroll of 2000 Euros, spending 1 hour each day and placing arbs between 2% and 7%. For Live, with the same bankroll, the return on investment is approximately 20% or more because the arbs are usually between 5% and 20%. It's very complex and it's individual for everyone. For a general overview of new releases and updates read their blog.
Layout and user experience
User experience is a top consideration when choosing an sure bets software. Interestingly, there is nothing to fault at Arbmate. The software works beautifully. To make things even better, they have a Google Chrome extension as their odds navigator. With this, the experience will always be seamless. The best thing about this extension is that it's not trackable. Even while navigating you to the events page, bookies will never suspect anything out of the ordinary.
Furthermore, the overall layout of Arbmate is friendly, making navigation easy for newcomers. The settings filters are displayed at the top of the page. They are arranged logically so that you can get around easily. On the left column, you'll find all arbitrage opportunities, depending on your filters. Once you tap any one of them, their full details will be displayed on the right side. There's also an surebet calculator that allows you to round off your stakes. In general, while depth and usability are often at odds, they've found a perfect balance.
How to install the Odds Extension
To use the full functionalities of the navigation, you need to install the Chrome Extension. Otherwise, you will have access to only the direct links navigation functionality. To install it follow this simple guide:
Download the Extension
Unzip the file
Open Chrome and go to Settings->More tools->Extensions
Enable the developer mode (switch on the top right corner of the browser)
Click "Load unpacked" and upload the extension folder
Accessibility and mobile compatibility
Arbmate is a web application. Provided that you have a browser installed, you can access it via any device. Whether on desktop or mobile, the functionalities are the same. However, make sure your internet speed is good. The odds change every second, so you need to keep up with them.
Arbmate's Subscription plans
You no longer have to pay hundreds of dollars monthly to access arbitrage betting services. Arbmate allows you to start cheaply, with a list of preselected bookies. As you improve your skills, you can add more bookmakers. The service is impressively diverse in that it allows weekly, monthly, quarterly, semi-annually and annually subscriptions. Each of the subscriptions gives you access to arbs for surebets, middles and polish middles. The tariffs are as follows:
Weekly: €7
Monthly: €19
Quarterly (3 months): €51
Semi-annually (6 months): €90
Annually: €156
Payment methods
Arbmate accepts payments via various financial options. Popular credit and debit cards, prepaid cards and e-wallets are all acceptable. To pay for your subscription, you can use:
Visa
Mastercard
Skrill
Neteller
PayPal
Is Arbmate legit and reliable?
Arbmate is a legal and legit arbitrage scanner. From the customer reviews on the site, you can tell that many are impressed. And it's not just about the relatively cheap cost, even their services are impressive. Notably, the software serves players in several different countries. In each of the countries, it has managed to get a 5-star rating.
In reliability, there is nothing to fault as well. The software scans 60+ bookies and over 20 sports every day. Their surebet calculator is accurate, and even allows you to round off the stakes. If you change the bet amount for one leg, the calculator automatically computes the amount for the other legs. Generally, this is an arbitrage service to trust.
Customer service
The support team is warm and welcoming. But before you engage them, check out the FAQ section. Most customer queries are tackled here. If your issue isn't addressed, you can send your concerns via;
Final words
Arbmate is a fast arbitrage betting service with several incredible features. Its quality is outstanding, not to mention its customizable nature. Besides, it's versatile enough to be used by both experts and beginners. Innovation is also at the core of its functionality. This is evident in its odds navigator, a Google Chrome extension that allows you to arb anonymously. And with the pocket-friendly prices, you may want to try it out.
Frequently asked questions
How can I register?
There are two ways to do so:
1) Tap the "Subscribe" button and then choose your preferred subscription plan. After that, provide your credentials to set up an account. On successfully purchasing your subscription your account will be up and running.
or
2) Head over to the registration page and complete the form. However, to register by this method you must have an "activation code".
Why are the arb names hidden?
Only logged in users, with active subscriptions can view the names of the teams in the arbs.
Does it offer a free trial?
No, but you could purchase a weekly or monthly subscription and get up to 5 bonus bookmakers for 24 hours. Even so, you can get this only once.
How do I pay for my subscription?
You can use several payment methods, including Skrill, Neteller and PayPal.
What bookies do you advise to play with?
Live: WilliamHill, Bwin, Sbobet, Marathonbet, Unibet, Bet365, Pinnacle, 188bet.
PreMatch: Betfair Exchange, Pinnacle, WilliamHill, Unibet, Bwin, Sbobet, Bet365, 188bet, Marathonbet.