Discover how Ninjabet, a premier matched betting service, can transform your betting experience and optimize profits with minimal risk. Read our detailed review now!
Ninjabet Review: The Ultimate Matched Betting Platform for Bettors World Wide
What is Ninjabet?
Ninjabet is a dedicated matched betting platform that offers a comprehensive suite of tools, tutorials, and support to help users capitalize on bookmaker promotions and bonuses. By leveraging the power of matched betting, Ninjabet enables bettors to generate consistent profits with minimal risk, making it an ideal choice for both beginners and seasoned bettors.
Ninjabet's global reach is a testament to the platform's effectiveness and adaptability. Catering to a diverse audience, Ninjabet offers its services to bettors in various countries, including South America, Spain, Italy, Germany, Austria, and Switzerland. By tailoring its tools and resources to meet the specific requirements of each region, Ninjabet ensures a seamless and efficient matched betting experience for users across the globe. This international presence not only demonstrates Ninjabet's commitment to providing a top-notch service but also highlights the platform's versatility, making it the go-to choice for matched betting enthusiasts worldwide.
---
1. Pick your location
---
🇺🇲Ninjabet.com🇺🇲 – The First Matched Betting Platform in the USA
As sports betting continues to gain popularity in the United States, bettors are seeking efficient ways to maximize their profits while minimizing risks. Enter Ninjabet – a premier matched betting service that has been making waves in the industry. In this in-depth, we will uncover the features, tools, and resources that make Ninjabet the go-to platform for matched betting enthusiasts in the US.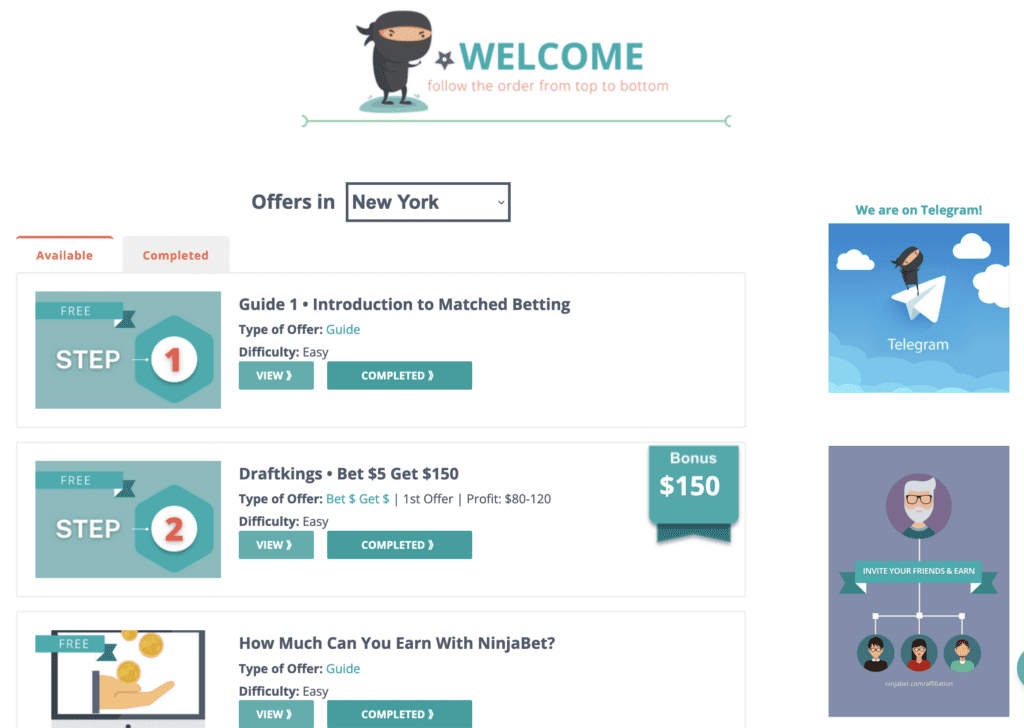 Ninjabet boasts a clean, intuitive interface that caters to users of all experience levels. The platform is designed to make the matched betting process as seamless as possible, with clear navigation menus and an easy-to-follow tutorial section. Users can quickly access various tools, including oddsmatcher, bet calculator, and profit tracker, ensuring a hassle-free betting experience.
Ninjabet Dutch Matcher: A Game-Changer for Betting Enthusiasts
A key feature that sets Ninjabet apart from its competitors is the powerful Dutch Matcher tool, which operates similarly to the renowned OddsMonkey Dutch Matcher. This advanced software allows bettors to identify and capitalize on profitable Dutching opportunities with ease.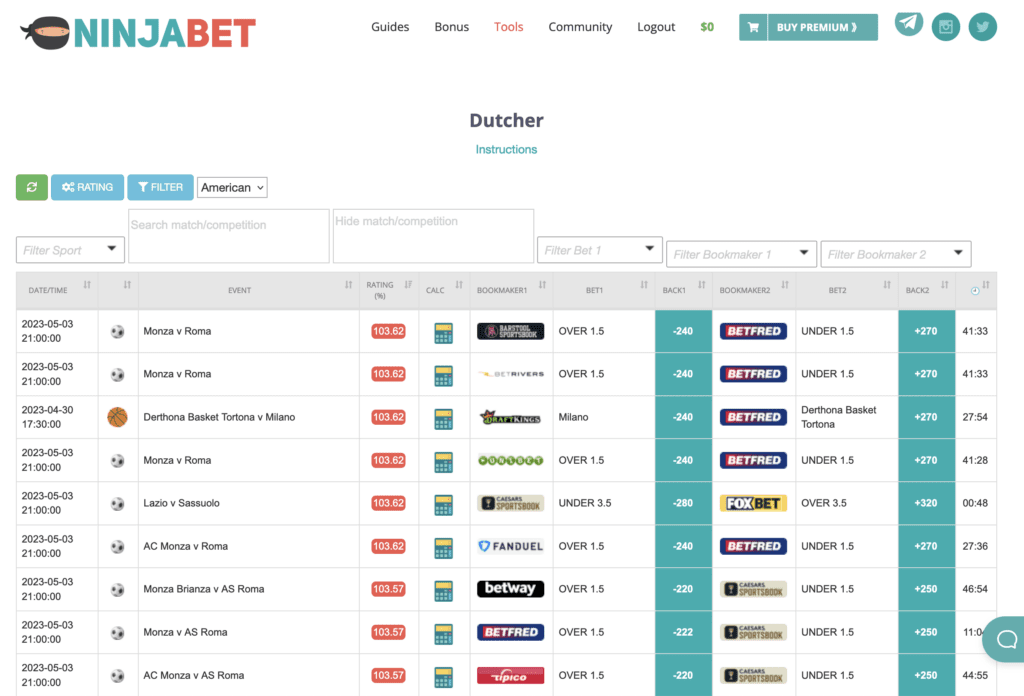 What is Dutching?
Dutching is a betting strategy that involves placing bets on multiple outcomes of an event to guarantee a profit, regardless of the result. This approach minimizes risk while maximizing potential gains, making it an attractive option for both novice and experienced bettors.
How Ninjabet's Dutch Matcher Works
The Ninjabet Dutch Matcher is designed to simplify the Dutching process by automating the search for profitable opportunities. It scans a wide range of bookmakers and compares odds to find the best possible matches, ensuring users can place bets with confidence.
Key features of the Ninjabet Dutch Matcher include:
Real-time odds updates: The Dutch Matcher constantly refreshes and updates odds, ensuring users have access to the most up-to-date information when placing bets.
Customizable filters: Users can tailor their search based on specific criteria, such as sport, bookmaker, or event, allowing for a more personalized betting experience.
Integrated bet calculator: The Dutch Matcher comes equipped with a built-in bet calculator that automatically determines the optimal stake for each outcome, taking the guesswork out of the Dutching process.
Detailed profit breakdown: The tool provides a clear and concise breakdown of potential profits for each Dutching opportunity, allowing users to make informed decisions about their bets.
Boost Your Betting Profits with Ninjabet's Dutch Matcher
The inclusion of the Dutch Matcher tool in the Ninjabet platform adds significant value for users looking to optimize their matched betting strategy. By streamlining the Dutching process and delivering accurate, real-time data, Ninjabet's Dutch Matcher empowers bettors to confidently take advantage of profitable opportunities and boost their betting profits.
Comprehensive Tutorials and Support
One of the standout features of Ninjabet is its extensive library of video tutorials and written guides. These resources cover everything from the basics of matched betting.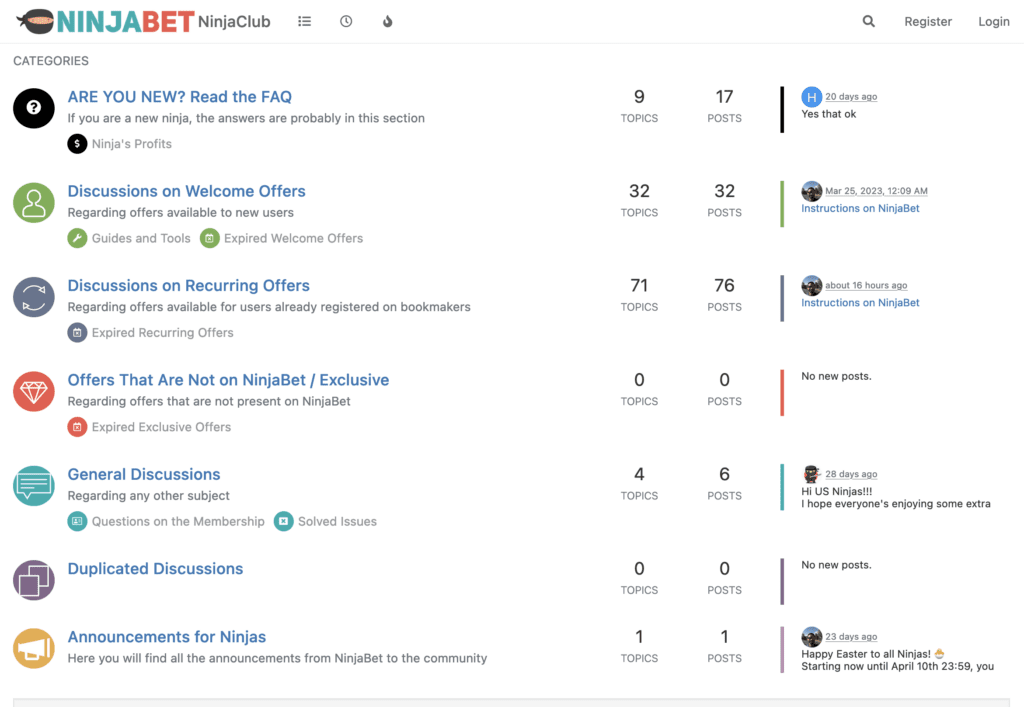 Conclusion
In conclusion, Ninjabet has established itself as a premier matched betting platform, offering a comprehensive suite of tools, resources, and support to help users maximize their betting profits. With standout features like the user-friendly interface, extensive tutorials, and the powerful Dutch Matcher, Ninjabet caters to bettors of all experience levels. Whether you're new to matched betting or a seasoned pro, Ninjabet is an invaluable resource that can transform your betting experience and optimize your profits with minimal risk.
Frequently Asked Questions (FAQ)
Q: Is Ninjabet suitable for beginners?
A: Absolutely! Ninjabet provides a wealth of tutorials and guides to help users understand the basics of matched betting and become proficient in various strategies, including Dutching.
Q: How does the Ninjabet Dutch Matcher compare to the OddsMonkey Dutch Matcher?
A: Both tools offer similar functionality, with the Ninjabet Dutch Matcher providing real-time odds updates, customizable filters, an integrated bet calculator, and detailed profit breakdowns, just like the OddsMonkey Dutch Matcher.
Q: Is matched betting legal in the United States?
A: Matched betting is legal in the US as long as you are placing bets with licensed bookmakers in states where sports betting is legalized. Always check your local regulations and ensure you are betting responsibly.
Q: How much does Ninjabet cost?
A: For accurate pricing information, visit the Ninjabet website. They often offer a variety of subscription plans, including monthly, annual, and lifetime options, to cater to different user needs.
Q: Can I use Ninjabet on my mobile device?
A: Yes, Ninjabet is compatible with most modern web browsers on smartphones and tablets, allowing users to access the platform and its features on-the-go.