OddsMonkey, the leading matched betting service, has been a popular choice among bettors for years. But is it still the best option in 2023? In this comprehensive review, we will explore what OddsMonkey is, how it works, and whether it remains the top choice for matched betting enthusiasts.
Introduction to OddsMonkey
OddsMonkey is a premier matched betting service designed to provide users with tools, resources, and guidance to make the process of matched betting easier, more efficient, and ultimately, more profitable. Matched betting is a technique that leverages free bets, bonuses, and promotions offered by bookmakers to guarantee a profit, irrespective of the outcome of a sporting event. OddsMonkey offers a plethora of tools and resources, such as calculators to determine the correct stakes, an oddsmatcher to identify the best matches, and a community forum for sharing tips and information.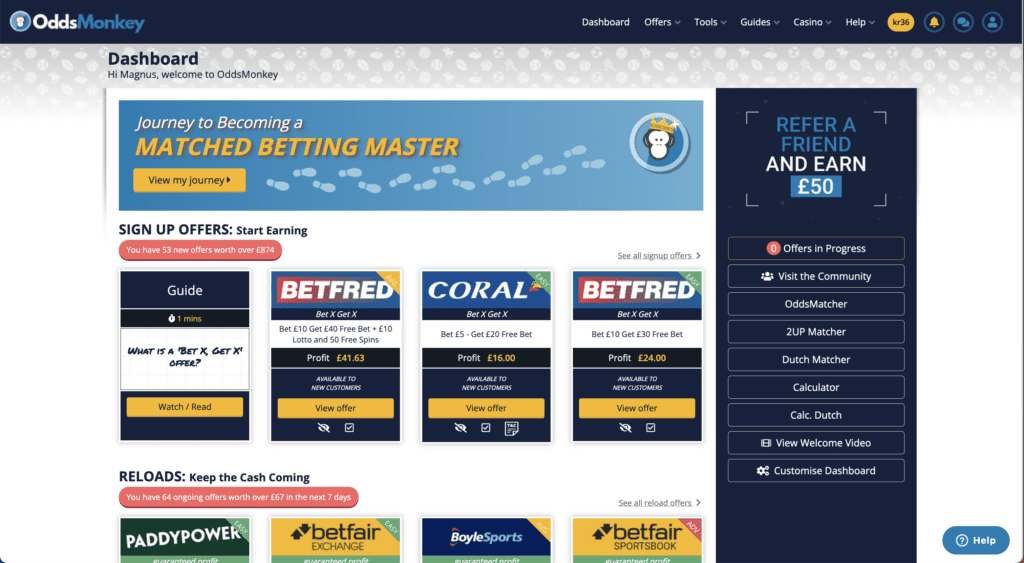 Unraveling the OddsMonkey Process
OddsMonkey simplifies matched betting by equipping users with a comprehensive suite of tools and resources designed to maximize profits. By leveraging these tools, bettors can capitalize on free bets and bonuses from bookmakers, ensuring guaranteed returns. The essential tools and resources provided by OddsMonkey include:
Odds Matcher: A sophisticated tool that searches for optimal matches between bookmakers and betting exchanges, maximizing profits for users.
Matched Betting Calculators: An assortment of calculators that assist users in determining the correct stakes to place on each bet, ensuring a guaranteed profit.
Offer Calendar: A user-friendly calendar highlighting the most lucrative offers and promotions from bookmakers, helping users identify matched betting opportunities.
Tutorials and Guides: A comprehensive library of tutorials and guides that explain the intricacies of matched betting, offering tips and tricks for success.
Community Forum: A platform where users can exchange information, seek advice, and connect with other matched betting enthusiasts.
The OddsMonkey Oddsmatcher & Dutch Matcher
The OddsMonkey Oddsmatcher is the core of OddsMonkey. A powerful and essential tool for matched bettors seeking to maximize their profits. This innovative tool scours the web, comparing odds between bookmakers and betting exchanges to find the most favorable matches for users. The Oddsmatcher presents real-time data on a user-friendly interface, making it easy for bettors to identify the best opportunities to place back and lay bets. By automating the process of finding the most profitable matches, the Oddsmatcher saves users considerable time and effort, allowing them to focus on executing their bets and expanding their matched betting portfolio.
The Oddsmatcher compares bookmaker odds to Betting Exchanges odds. For matched betting, this is a the preferred way of finding good bets. This is what makes OddsMonkey stand out from other software more focused on surebetting between different bookmakers.
The Exchange that shows up most often in the matcher is Betfair, so having an account there is important. However, there is also a great Betfair alternative with the same odds at BFB247 for those that are unable to open an account with Betfair. Bfb247 also offers several extra features, and is the preferred Exchange for many Matched Bettors.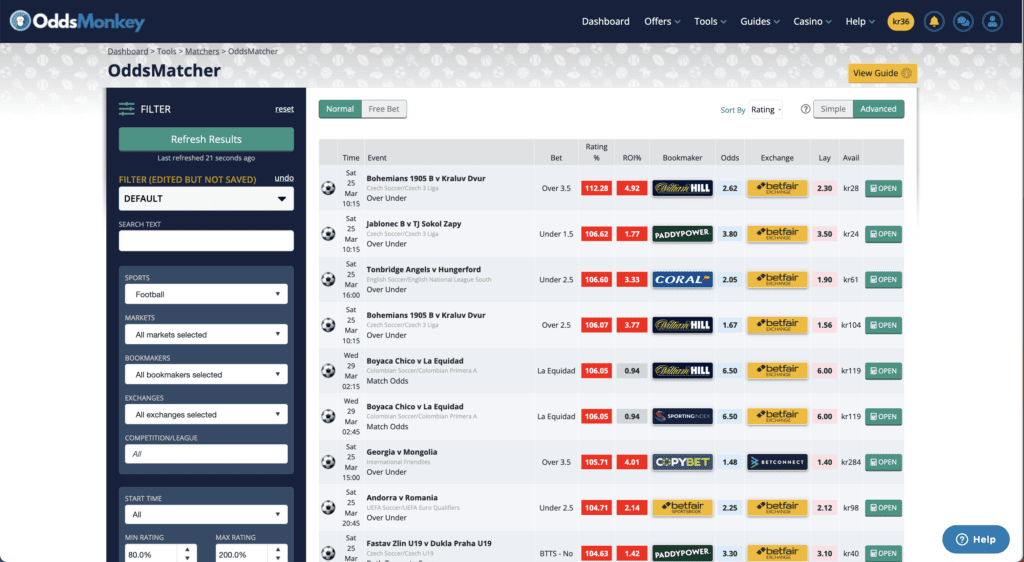 In addition to the Oddsmatcher, OddsMonkey also offers the Dutch Matcher. This is a tool similar to what the other surebet tools on this site. This advanced tool helps users quickly identify the best Dutch betting opportunities and easily execute their bets. Both the Oddsmatcher and Dutch Matcher tools are invaluable assets for matched bettors looking to optimize their profits and efficiency with OddsMonkey.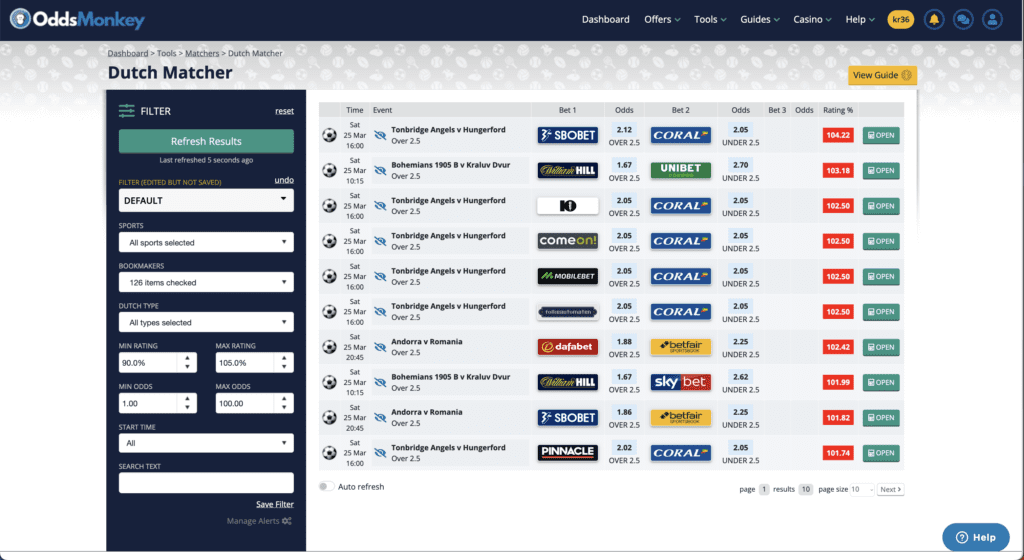 Matched Betting Calcultors
OddsMonkey has all the tools you need to calculate the correct bet size for matched betting, including optimized use of free bets. Ranging from the simple calculators that calculate stake based on odds, to more advanced calculators such as:
sequential lay calculator
each way calculator
early payout calculator
risk free bet calcultor
and many more
Offer Calendar
OddsMonkey has a daily updated calendar of available sign up bonuses and reload offers. This has a UK fokus, so value is greatest if you are from UK or are able to sign up with these bookmakers. But no matter where you are from, the value of OddsMonkey is still great, you just have to do some more manual work finding the bonuses. If you are from the US or able to play with US bookmakers, the just launched ProfitDuel is a better alternative. It is based on the same technology as OddsMonkey.
Tutorials and Guides
OddsMonkey has several guides. In addition to easy-to-understand guides teaching you how to use the software, you also get a great introduction to Matched Betting in general.
Is OddsMonkey Still Relevant in 2023?
OddsMonkey has been a trusted name in the matched betting industry for years and continues to provide top-notch services in 2023. In 2022, OddsMonkey revamped its website, enhancing its matched betting tools such as the oddsmatcher, calculators, and profit tracker. This update ensures that OddsMonkey remains a reliable and efficient solution for matched betting enthusiasts.
Understanding OddsMonkey Pricing
The cost of using OddsMonkey varies depending on the subscription package selected. OddsMonkey offers two plans, including a free trial, and a premium package with added features and services. The cost for OddsMonkey Premium is £24.99 per month.
In conclusion, OddsMonkey remains a top choice for matched betting in 2023, offering an extensive range of tools, resources, and support to make the process simpler and more profitable. If you're looking to maximize your matched betting earnings, OddsMonkey is undoubtedly worth considering.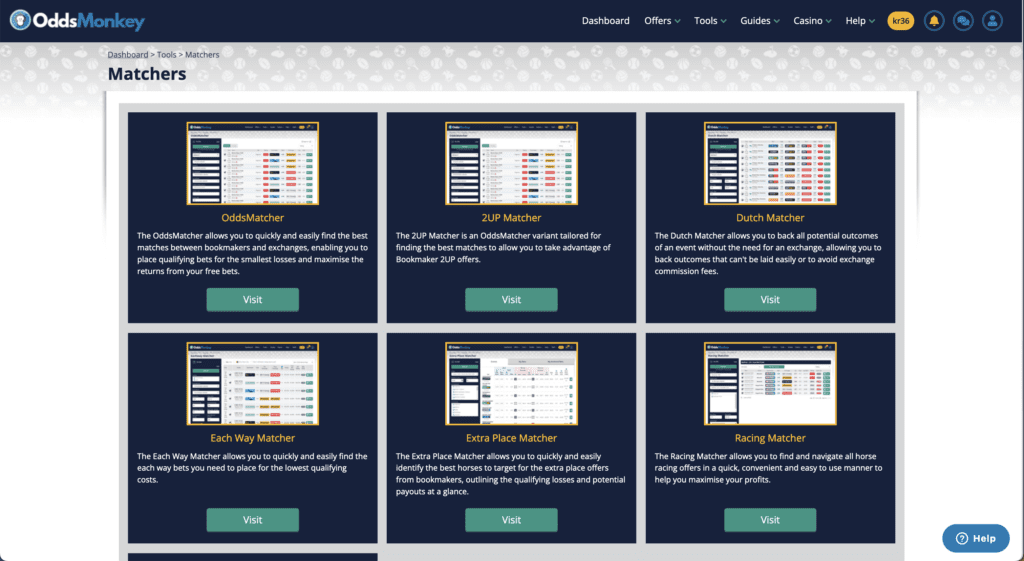 Conclusion and Final Verdict
OddsMonkey has been a leading provider of Matched Betting software for +10 years. It is still one of the best tools available. The price is low, and the value you get is much higher than what you pay. All in all OddsMonkey is our #1 recommended product for Matched Betting in Europe.
FAQ: OddsMonkey Matched Betting Service
Q: What is matched betting? A: Matched betting is a technique that involves placing bets on all possible outcomes of a sporting event using free bets, bonuses, and promotions offered by bookmakers. This ensures a guaranteed profit, regardless of the event's outcome.
Q: Is matched betting legal? A: Yes, matched betting is legal and considered a legitimate way to earn tax-free profits from bookmakers' promotions and offers. However, it is essential to be aware of the terms and conditions associated with each offer to ensure compliance.
Q: Is OddsMonkey suitable for beginners? A: Absolutely! OddsMonkey is designed to cater to both beginners and experienced matched bettors. The platform offers step-by-step tutorials, guides, and a supportive community forum, making it easy for newcomers to learn the ropes and start making profits.
Q: How long does it take to start making money with OddsMonkey? A: The time it takes to start earning money with OddsMonkey can vary depending on factors such as your experience level, the time you invest, and the offers available. However, many users report making profits within their first week of using the platform.
Q: Are my earnings from OddsMonkey tax-free? A: Yes, in most jurisdictions, including the UK, profits from matched betting are considered tax-free as they are classified as gambling winnings.
Q: Can I use OddsMonkey if I live outside the UK? A: While OddsMonkey primarily focuses on the UK market, some of the tools and resources provided can also be useful for matched bettors in other countries. However, it is essential to verify the legality of matched betting and the availability of offers in your region before using the service.
Q: Is there a mobile app for OddsMonkey? A: Currently, OddsMonkey does not have a dedicated mobile app. However, their website is mobile-friendly, allowing you to access the platform and use its features on smartphones and tablets.
Q: What payment methods does OddsMonkey accept? A: OddsMonkey accepts various payment methods, including major credit and debit cards, as well as PayPal. For the most up-to-date information on accepted payment methods, please visit their website or contact their support team.
Q: Can I cancel my OddsMonkey subscription at any time? A: Yes, you can cancel your OddsMonkey subscription at any time. If you are on a monthly plan, your subscription will continue until the end of your current billing cycle. If you have any issues or concerns regarding cancellation, you can contact their support team for assistance.
Q: How do I get help if I have questions or issues while using OddsMonkey? A: OddsMonkey offers excellent customer support through multiple channels, including email, live chat, and their community forum. You can reach out to their team for help, and they will be happy to assist you with any questions or concerns.