In our OddsBoom review, we will review aspects such as betting tools, pricing, promotions, payment methods, sports covered, customer support, etc.
The site was founded in 2019 and is licensed by the New Jersey Division of Gaming Enforcement. In addition to that, the site scans over 50 markets from over 40 bookmakers. The leagues covered are also the most popular in the USA. When it comes to pricing, the site is among the cheapest arbitrage sites you will ever come across.
OddsBoom Betting Tools
The site is currently using three arbitrage betting tools to help you earn sure profits as a bettor. These betting tools are as follows:
Arbitrage markets betting tool – This is the main betting tool used to scan arbitrage bets. Basically, an arbitrage bet is when the "hold" of a market is below 0%. As a result, you can bet on both sides of the market and win sure profits. With this type, you will win some profit no matter the outcome of the match.
Low hold markets betting tool – This is an odds comparison tool used to find markets where the "hold" is below industry-accepted standards. A "hold," in simple terms, refers to the fee charged by bookies to place wagers. For instance, an outcome may be priced at -110, meaning it has a hold of 4.7%. With an odds comparison tool, you can find a hold that is below 4.7%, thus giving you a bigger edge.
Bonus Cruncher tool – This is a betting tool that displays betting opportunities where you can bet on both sides of the markets with a minimal loss. Again, the tool tells you where to bet and how much money you will win.
OddsBoom Arbitrage Alerts
OddsBoom has a feature that allows you to get arbitrage alerts via email and SMS. In particular, the feature allows you to get alerts whenever lines present arbitrage opportunities. What's more, the feature allows you to set which sports and the minimum percentage profit you want to receive. In order to set an alert, you only need to sign-up and click on the notification icon next to any betting market. You also need to go to your profile and add your mobile phone number and email address.
Sports Covered
Our OddsBoom review found that the site covers over 12 sports. Specifically, the site covers popular sports such as Football, Basketball, Baseball, Hockey, NASCAR, Soccer, and Boxing. You can also expect to get arbs for other sports such as Formula One, Winter Olympics, Tennis, Golf, and UFC. Well, these sports are from over 40 established sportsbooks in the USA. You will, for example, get sure bets from sportsbooks such as MGM, Superbook, Golden Nugget, Hard Rock, Fox Bet, PointsBet, Betway, among others. The leagues covered by the site are also the most popular in the US. You can expect to get arbs for popular leagues like NBA, NCAAB, NFL, MLB, KBO, Serie A, Premier League, La Liga, and NHL.
Betting Markets
OddsBoom compares odds for every market you could think of. To be specific, the site has over 50 betting markets for you to choose from. Besides, the markets are for major sports and popular leagues. You can sign-up now and choose from popular betting markets like:
Match winner
Moneyline
Asian Handicap
Alternate total
Both teams to score
Total rounds
Correct score
OddsBoom Comparison Filters
Novice bettors aren't always aware of all the tricks to find the highest odds for an outcome. Whatever strategy you're sticking to, you can improve your chances by using comparison filters to make your choices more accurate and profitable.
With Odds Boom comparison filters, you can select:
Country and region
Decimal or US odds format
Sports, teams, and players
Bookmakers
Tools
With the OddsBoom legit status in the USA and Canada, you can look for the best odds available daily. Use different comparison filters to try out different options and find what makes your betting strategy complete.
OddsBoom Plus memberships allow bettors to eliminate any limits and access international sportsbooks. So, as an OddsBoom bettor, you can manage multiple odds screens, get rid of ads, and find sportsbooks beyond your state.
OddsBoom Promotions
OddsBoom doesn't shy away when it comes to offering promotions to new players. When you sign-up for an account through surebets.bet, you will get a 3-day free trial. During the 3-day free trial, you will access thousands of arbitrage bets. Still, you will access unlimited low hold markets from all popular bookies you could think of in the United States of America. Once the three days are over, you will need to pay a day pass for $5 or a monthly pass for only $15. Here, you can also expect to get a referral bonus of up to $15.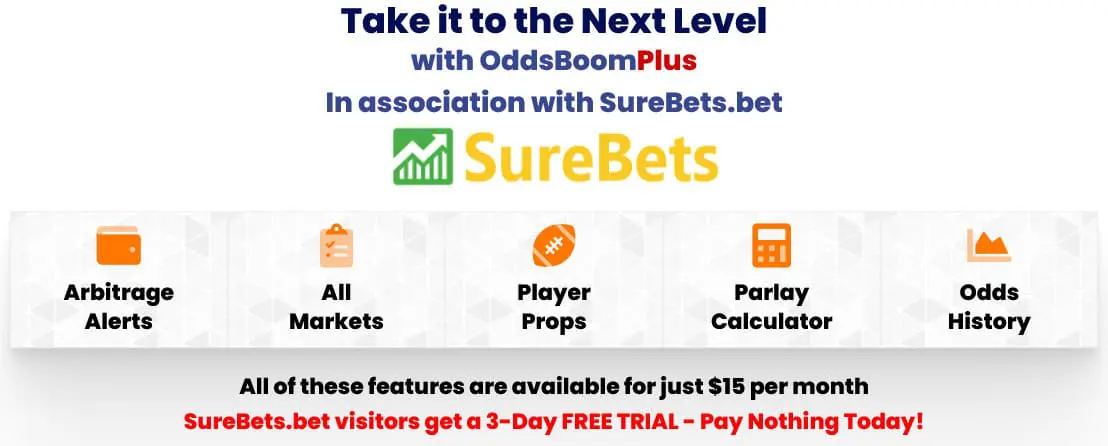 Pricing
OddsBoom is indeed one of the most affordable arbitrage betting sites in the USA. When you join this site, you can choose to pay daily, monthly, or annually. If you choose to pay daily, you will pay for a day pass for only $5. On the other hand, if you choose the monthly plan, you will only part ways with $15. Well, as you can see, the monthly plan is cheaper, and we advise you to go for it. Another thing worth noting about the monthly plan is that you can cancel your subscription at any time.
Payment Methods
As we said, you will need to pay for the daily or monthly plan in order to access arbitrage bets. Well, there is no need to worry about how you will pay for these subscriptions. Our review found that OddsBoom supports PayPal as a payment method. As you probably know, PayPal is one of the most recognized payment methods in the world. The method is safe and secure, and you can use it to make instant deposits.
User Interface
We have tested this site, and we can assure you that it has a user-friendly interface. Whether you are a newbie or an experienced bettor, you won't face issues while navigating through the site. The homepage has a nice layout, and anything you want is just a few clicks away. Also, the site has a site map to help you access information about arbs within the shortest time possible. Another thing worth mentioning is that the site is mobile-compatible. To this end, you can access various arbitrage betting tools on the go.
How to Create an Account
In order to access arbitrage bets, you must be a member. And to be a member, you need to create an account. The account creation process is as follows:
Use this link to visit the site.
On the site's homepage, click on the "Register" button.
Enter your full name, username, email address, password, and country in the registration form.
Finally, click on the "Register" button.
How to use an OddsBoom arbitrage tool?
Are you keen to dip your toe in the betting water, but the idea of parting with your money holds you back? The OddsBoom arbitrage bet finder is a valuable tool to navigate risk-free bets for all types of sports, including basketball and baseball.
| | |
| --- | --- |
| API | OddsBoom API is in a JSON format |
| Bonus cruncher | Displays betting opportunities |
| Low holds | |
| Arbitrage | |
As a tried-and-true betting strategy, arbitrage betting paves the way for takings, whether you win or lose. It is based on odds differences between OddsBoom bookmakers. Place bets on any sporting event result, and you're good to go. If the difference is significant, you can make enough money out of your winning bets to cover all outcomes. If you come across bookies who offer moneylines with the same odds, but for different results, you can get a guaranteed profit that will depend on the amount of money you place as your wager.
Once you join the Odds Boom Plus, you will get access to limitless arbitrage betting opportunities, helpful filters for bookies, markets, and more. Whether you'd like to place single bets or cover more markets with combinations, OddsBoom can instantly bring you to the best bookmaker.
Is OddsBoom Legal and Legit?
As a bettor, you need to consider whether the arbitrage site you want to sign-up with is legal and legit or not. Well, we have reviewed OddsBoom, and we can confidently announce that the site is licensed and regulated by the New Jersey Division of Gaming Enforcement. The vendor ID number for the site is #91302. This license means that there is nothing you should worry about. You can sign-up and enjoy arbitrage bets, low hold bets, and other arbs with peace of mind.
Customer Service
This arbitrage betting site has excellent customer support service. Precisely, the agents behind the customer care desk are friendly, professional, and experienced. If you have an issue, you can use support tickets to reach customer support agents. Alternatively, you can reach support agents via email. If these two options don't work, you can get in touch with the support agents on WhatsApp. It is also worth noting that the site has a FAQ section with answers to common arbitrage betting questions.
Final Thoughts
From our OddsBoom review, we can confidently say the site is worth your money. One of the things you will admire about the site is the low monthly fee. With only $15 per month, you will be good to start your arbitrage betting adventure. And remember, you will get a 3-day free trial when you sign-up. When you join the site, you will also enjoy thousands of arbs from popular sportsbooks in the USA. Better yet, the site is licensed, meaning there is nothing to worry about.