In this PS3838 review, we will tell you more about all the available betting options you can take advantage of. We will also tell you more about how to sign-up, mobile betting, payment methods, and more.
PS3838 is a premium Asian bookmaker that has been offering unmatched betting services since 1998. Besides that, the bookmaker is powered by Pinnacle. The sportsbook has set low margins, which means you have a chance to win big.
How to Register with PS3838 Agent
In order to play at PS3838, you must register a betting account via a betting broker. In other words, you cannot register an account on the PS3838 site. All you need to do is sign-up for an account with a trusted betting brokerage like BetInAsia, and you will be good to go. Again, the login details you will receive from a betting broker are the ones you will use to sign in to your PS3838 betting account.
Well, you don't have to worry about how you will sign-up with betting brokers. The registration process is like the one you would find at online sportsbooks. All you need is to enter account details like name, email, password, country, currency, etc.
Betting Options Available at PS3838 Sportsbook
PS3838 has an exciting betting portfolio featuring some of the world's most popular sports. If you are a sports enthusiast, you can bet on sports such as Football, Boxing, Martial Arts, Golf, Tennis, Horse Racing, Volleyball, Baseball, Basketball, and many more.
The above sports have a wide range of betting markets that you can choose from. For example, you can bet on betting markets like team totals, 1X2, Over/Under, sides, Asian Handicaps, double handicaps, parlays, half-time/full-time betting, and many more. When it comes to odds format, you will choose from American, Decimal, Hong Kong Odds, and Malay Odds.
The website is powered by Pinnacle, but the limits (amount you can bet) are approximately just half the size. That's the case for most other Pinnacle-based products. The sportsbook found at BFB247's Sportsbook offers full size Pinnacle limits, and is a better choice if that is important to you.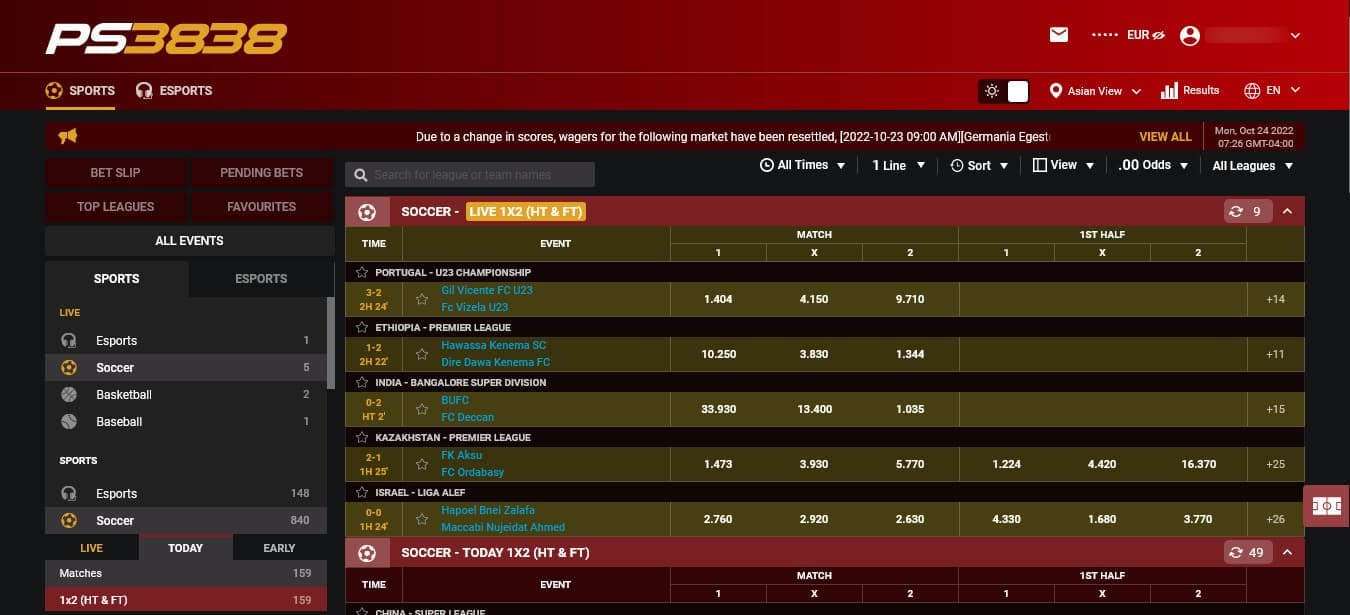 Besides offering the best sports in the world, PS3838 sportsbook also gives you a chance to bet on e-sports. Plus, the e-sports leagues you will get on this site are among the most popular in the world. They also have some of the highest odds, meaning you can place bets and win a fortune.
PS3838 Live Betting
Here at Ps3838, there is a live betting option. This is to say that you can bet on matches that have already kicked off. You can rest assured of placing live bets on popular sports like Football, Tennis, Baseball, Boxing, Basketball, Volleyball, and many more. And remember, the odds for live events are among the highest on the market.
PS3838 Mobile Betting
PS3838 mobile sportsbook is designed with mobile bettors in mind. Specifically, the bookie has a mobile site that you can visit and bet on sports on mobile devices. Compatible mobile devices include Android, Windows, and iOS. What's more, the features you will get on the mobile site are the same as the desktop site. For example, you will get plenty of sports, e-sports, and an option to place live bets.
Making Deposits and Withdrawals at PS3838 Sportsbook
PS38338 sportsbook only accepts deposits via betting brokers. In other words, you cannot make deposits on the PS3838 betting account. Before you visit the PS3838 site, you need to sign-up up with a reputable betting brokerage and make a deposit. Once you fund your betting broker's account, you can then transfer funds to PS3838 betting account and bet on your favorite sports.
You will also not be able to withdraw winnings directly from your PS3838 account to your bank account. Instead, you will need to withdraw via the betting brokerage and transfer the money with your chosen withdrawal method.  As you can see, betting brokers play a big role when it comes to deposits and withdrawals.
Customer Service
PS3838 doesn't have many support options on the site. In fact, you won't be able to communicate directly with the support agents. If you have a question or concern about your running bet, you need to contact your betting broker, and you will be sorted out. Most betting brokers have a live chat support option, so you can be sure of getting instant help.
Our Verdict
PS3838 is offers world-class odds as it is based on Pinnacle. However, the limits are half the size, and the support options are fever. There are better alternatives out there offering the same selection of odds, but with higher limits and better support. BFB247's Sportsbook being the one we recommend.
PS3838 Sportsbook Details
Afghanistan
Aruba
Australia
Austria
Belgium
Bulgaria
Czech Republic
Democratic People's Republic of Korea
Denmark
Germany
Greece
Hungary
Iran
Ireland
Italy
Kazakhstan
Lithuania
North Korea
Northern Ireland
Philippines
Poland
Portugal
Romania
Singapore
Slovenia
Spain
Sudan
Sweden
Syria
Turkey
United Kingdom